---
Full version package with unrestricted use
Direct download from Microsoft
Product key and download link within seconds
What is Windows 8.1?
Windows 8.1 is an operating system designed by Microsoft. Windows 8 introduced a lot of new changes, and many people found it difficult to use. Windows 8.1 is very similar to Windows 8, but it addresses some of the problems people had with Windows 8.
There have been many different versions of Windows over the years, including Windows 7 (released in 2009), Windows Vista (2006), and Windows XP (2001). While previous versions of Windows mainly ran on desktop and laptop computers, Windows 8 is also designed to run on tablets. Because of this, the interface has been simplified so it will work with touchscreens.
An operating system manages all of the hardware and software on a computer. Without it, the computer would be useless. To learn more about how operating systems work, check out Understanding Operating Systems and Getting to Know the OS in our Computer Basics tutorial.
How is Windows 8 different from earlier versions?
There are many new features and changes in Windows 8, both small and large. These changes include a redesigned interface, online features, and improved security.
Interface changes
The first thing you'll notice about Windows 8 is that it looks totally different from previous versions of Windows. The all-new interface includes features like the Start screen, live tiles, and hot corners.
Start screen:

 

The main screen you'll use is called the

 

Start screen, and it displays all of your apps as

 

tiles. You can personalize your Start screen by changing the color scheme, choosing a background image, and rearranging your tiles.

 

Live tiles:

 

Some apps use

 

live tiles, which let you see information without even clicking on the app. For example, the Weather app displays the current weather on its tile, and you can click on it to see more details.

 

Hot corners:

 

You'll navigate through Windows 8 by using

 

hot corners. To use a hot corner, just hover the mouse in the corner of the screen, and it will open a toolbar or tile that you can click. For example, to switch to another open app, you can hover the mouse in the top-left corner and then click. If you're using a tablet, you'll swipe from the left or right instead of using hot corners.

 

Charms bar:

 

Many of your computer's settings are now found in a toolbar called the

 

Charms bar. You can access it by hovering in the top-right or bottom-right corner of the screen. If you're using a tablet, you can swipe from the right to open the Charms bar.

 
Online features in Windows 8

Many people are starting to save their files and other information online (also known as the cloud). One way to do this is with Microsoft's OneDrive service (previously call SkyDrive). Windows 8 is designed to connect seamlessly to OneDrive, as well as to other online services like Facebook and Twitter.
Sign in with Microsoft account:

 

Instead of creating an account on your computer, you can sign in with your free Microsoft account. This will bring all of your OneDrive files, contacts, and more into your Start screen. You can even

 

sign in to a different computer

 

that has Windows 8, and all of your important files will be there.

 

Social networking features:

 

You can connect your Facebook, Twitter, and Flickr accounts to Windows 8, allowing you to see your friends' updates directly from your Start screen or from the built-in

 

People

 

app.

 
To learn more about Microsoft's online services, check out our Microsoft Account and OneDrive and Office Online tutorials.
Other Windows 8 features
Simplified Desktop for increased speed:

 

Microsoft hasn't removed the Desktop, and you can still use it to manage your files or open many of your existing programs. However, it has removed some of the transparency effects that often caused Windows 7 and Vista to run slowly. The new Desktop should run more smoothly on most computers.

 

Start menu has been replaced:

 

The

 

Start menu

 

was an important feature in earlier versions of Windows, but it has been replaced with the

 

Start screen. You'll use the Start screen to open programs or search your computer. Some people may find it disorienting to use Windows without the Start menu.
Improved security:

 

Windows 8 has a built-in antivirus program called

 

Windows Defender, which can also protect you from other types of malware such as spyware. The built-in

 

Windows Store

 

also helps to keep you and your computer safe by showing you what information each app will have access to. For example, some apps have access to your location, so if you're uncomfortable sharing your location you can decide not to download those apps.

 
Updating Windows 8 to Windows 8.1
When Windows 8 was released in 2012, many users complained that it was difficult and confusing to use, especially compared to older versions of Windows. Windows 8.1 is an update for Windows 8 that includes a number of improvements and features to address some of these issues. Below are some of the most helpful and notable features:
Start Button: Windows 8 removed the Start button from the Desktop. Many users complained about the missing Start button, so Windows 8.1 adds it back to the Desktop. Clicking the Start button on the Desktop will launch the Start screen, which you'll use to open programs and search for files.
Boot to Desktop: Rather than launching the Start screen when you turn on your device, Windows 8.1 now gives you the option to boot directly to the Desktop, much like older versions of Windows. This is especially helpful if you're not interested in using the Start screen very often.
Snap Start Screen Apps: Windows 8 introduced full-screen apps for the Start screen, but it did not allow you to view more than two apps at once. Windows 8.1 allows you to view several different Start screen apps and snap them to different parts of the screen. Traditional desktop apps still work the way they did in earlier versions of Windows: They'll appear in individual windows that you can move and resize.

If you already have Windows 8, you should now able to upgrade to Windows 8.1. Your computer may be updated to Windows 8.1 automatically, but you can also update it manually. To do this, open the Windows Store app from the Start screen, then select Update Windows.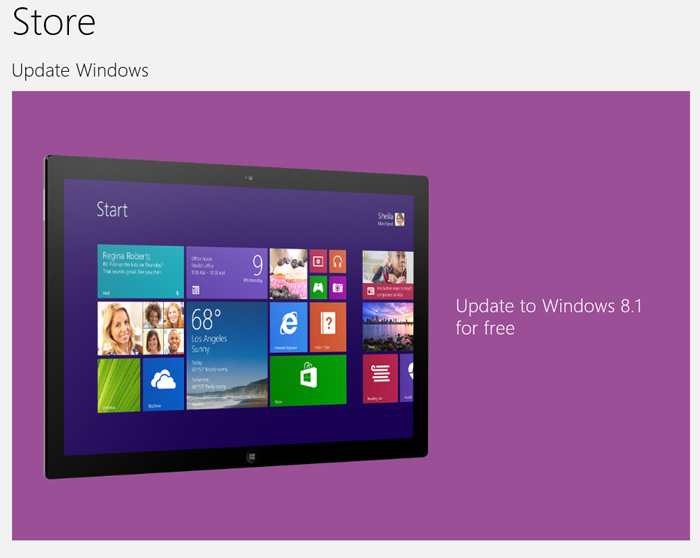 You can also review this page from Microsoft if you're having trouble updating to Windows 8.1.
Lesson 3: Upgrading to Windows 8.1
Upgrading to Windows 8.1
If you're currently using Windows 8, you can upgrade your computer to Windows 8.1 for free. However, it's also important to know that Windows 10 was released in July 2015. When you upgrade to Windows 8.1, you'll then be able to upgrade to Windows 10, and we'd highly recommend you do this—review our Windows 10 tutorial to learn how.
Windows 8.1 editions
Windows 8.1 was released as an update to Windows 8 in October 2013. There are three main editions:
Windows 8.1: This is the standard edition, and it will run on desktops, laptops, and some tablets.
Windows 8.1 Pro: This gives you all of the features of Windows 8.1, as well as some extra features intended for advanced users and businesses. For example, people who need more security can use

 

BitLocker

 

to encrypt their files.
Windows RT 8.1: This is the edition that older tablets will have. It may also be used by some budget laptops and netbooks. Windows RT comes pre-installed with a version of

 

Microsoft Office, known as Office RT, which is optimized for touchscreens.
What's the difference between Windows 8.1 and Windows RT 8.1?
You cannot install desktop applications on Windows RT 8.1. While Windows RT gives you access to the desktop, you can only use it for Office RT and customizing certain settings. If you want to install and use traditional desktop applications on your computer—for example, Adobe Photoshop or QuickBooks—you will need a device that runs Windows 8.1 or 8.1 Pro.
Windows tablets
If you want to use Windows on a tablet, you'll need to buy a tablet that has it pre-installed, such as the Microsoft Surface. Other manufacturers also sell tablets that use Windows. Keep in mind that some older tablets may run Windows RT 8.1, which means you won't be able to install desktop applications.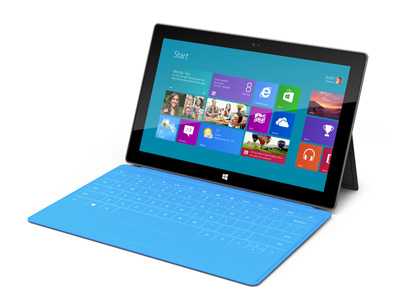 Windows 8.1 system requirements
Before you upgrade to Windows 8.1, it's important to make sure your computer meets the minimum hardware requirements. Below are the requirements that Microsoft has given:
1GHz (gigahertz) processor

 

or faster. Your processor will either be

 

32 bits

 

or

 

64 bits, and 64-bit processors will have stricter hardware requirements (see below).
1GB (gigabyte) RAM

 

(32-bit) or

 

2GB RAM

 

(64-bit).
16GB available hard disk space

 

(32-bit) or

 

20GB

 

(64-bit).
DirectX 9 graphics device

 

with WDDM 1.0 or higher driver.
A screen resolution of at least

 

1024x768 pixels.
Note that these are the minimum requirements. If you use your computer for gaming or other demanding apps, you may need a faster processor, more RAM, or a more powerful graphics card.
The good news is that Windows 8 has the same requirements as Windows 7, so if you're upgrading from Windows 7, you'll probably have no problems with Windows 8. On the other hand, if you want to upgrade from Vista or XP, you should check your computer's system information to see if it meets the requirements.